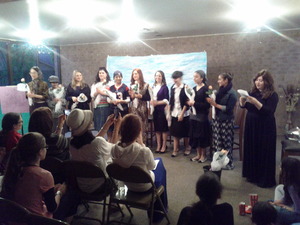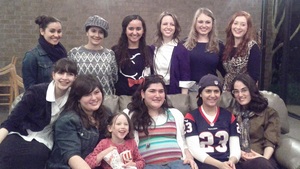 …and loads of laughs! The TGA girls put on a stellar performance Sunday night, to a crowd of over 60 women and girls. Countless hours went into writing the scripts for two humorous skits, created in large part by the girls themselves. Under the guidance of their drama teacher, Mrs. Malka Finman, the students practiced and perfected their parts over the past six months. Their hard work paid off; the audience was enthralled and captivated, at some points crying from laughter.
Guests were also treated to a beautiful array of cakes and delicacies baked by TGA Activities Director, Mrs. Chaya Wolbe, with the assistance of women from the community. Mrs. Grossman, General Studies Principal, inspired the crowd with beautiful words of divrei Torah on the subject of laughter.The mood of the evening was relaxing and enjoyable and everyone had a great time.
We'd like to thank all the women and girls that came out to support our students and TGA. We are so glad that we were able to put a smile on your face! May we share many more occasions of joy and laughter together in the future.